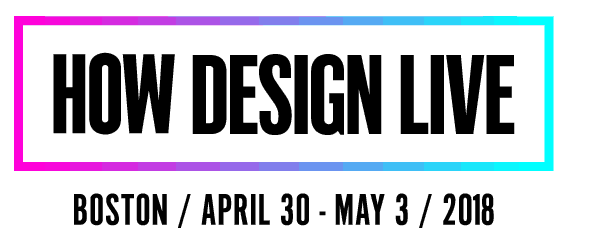 By Vicky Stoakes, Client Services Director
Walking into a huge, dazzling auditorium on a spring morning in Boston was my introduction to HOW Design Live 2018. Joining over 3,000 creatives from across the world, coming together to share, learn and celebrate the best in design thinking.
Nick Law, Chief Creative Officer, Publicis Groupe, kicked off the day with a keynote speech that set the theme: how the web ate the world – how the internet has become the most powerful medium and how design must now work in every aspect of that medium to help create true, authentic relationships with consumers.
Brand behaviour, authenticity and storytelling. Start with behaviour. It's not new thinking, but it's still a reminder that everyone working in this world must always return to this truism.
After the energy-raising opener from Nick with mighty case studies for Nike and Beats By Dre, it was over to see Marie-Therese Cassidy, Executive Creative Director, Consumer Brands at FutureBrand. Her insightful, clear presentation complemented the keynote, exploring how design has had to evolve from 'stop, engage and persuade' to creating a more cohesive and solid brand experience.
Brands need to meet the consumer at every part of the long consumer journey – one that is often triggered by technology – with the understanding that effective brand design is not only about how something looks by itself but also how it fits into the wider brand story.
For brands to capture hearts and minds, design is the central element to bring every part of the brand story together. As Cassidy pointed out, Nespresso began as a packaging brief from the client and yet FutureBrand was able to focus Nestlé on the opportunity that Nespresso offered by creating a luxury brand that just happens to make coffee.
And just look at the brand now, some 18 years on. Still creating brand experiences which are more than the coffee by opening cafés, creating clever collaborations that appeal to newer consumers (Kheils) and taking on the cold brew coffee trend.
There's so much to take away from the many outstanding speakers at the conference but Cassidy really hit the spot. Finally it's time for all brands, not just the clever start-ups and challengers, to know that brand objective is equally as important as consumer need.
They must be closely linked, and the more they overlap, the stronger the brand. It's an exciting time to be part of the design industry as this type of thinking takes design to whole new level.