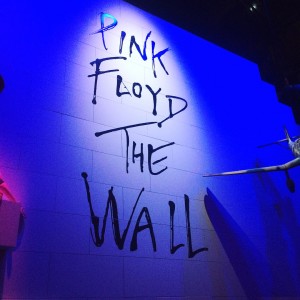 By Vicky Stoakes, Client Services Director
Hands up, I admit, before going to the current Pink Floyd extravaganza at the V&A, I didn't know much about the band (apart from one epic school assembly when some clever teacher played 'Another Brick in the Wall'…the only assembly I can remember for obvious reasons).
The exhibition is a fully immersive theatrical experience into the Pink Floyd world, from the music, to the cultural landscape around the development of their work, to flying pigs and giant puppets. But what captured my attention was the band's absolute dedication to the pursuit of creativity.
The band was clearly driven to create 'experiences' in every facet of the Pink Floyd world. From mind blowing huge rock shows of sound, light, animation and puppets to probably the most iconic album covers ever. They teamed up with creative duo Hipgnosis to create some of pop cultures most memorable and eye-catching images.
A famous NME article from 1971 summarised the Pink Floyd's approach, quite simply 'they don't dig creative complacency'. So if there are any outtakes that a creative person could learn from the Pink Floyd approach, they would be:
Be brave. Logic tells you not to set fire to a human, but put them in a fire retardant suit and wig to symbolize how people tend to hide feelings for fear of getting 'burned' and you've got a shockingly compelling image and story to tell (see 'Wish you were here' album cover, 1975)
Be bold. Sometimes size matters. A pig size pig is just that. But a giant inflatable pig is something else entirely. (see 'Animals' album cover, 1977)
Be irreverent. Shake up the expected. In a sea of boring album covers, Pink Floyd make you stop and stare. Why not drag 700 hospital beds onto a beach? (see 'A Momentary Lapse of Reason' album cover, 1987) and why not create and drag two giant heads the height of a double decker bus into a muddy field? (see 'The Division Bell' album cover, 1994)
Of course the ultimate goal of any creative output, is to engage the consumer. I still don't own any Pink Floyd and still don't intend to (not my music bag), but they certainly made me stop, stare and reappraise. Respect.